Bored with the dull beige colors of your safari outfit? Why not switch up your wardrobe to include a dashing bright orange life jacket. For just a day, throw the floppy sunhat aside and replace it with a vivid blue helmet. Now you're dressed for success and better yet, you can launch into one (or more) of our favorite adrenalin pumping activities on offer in Africa.
In the Water …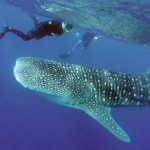 White Water Rafting on the Nile or Zambezi Rivers — Whether you op to run the Nile in Uganda or the Zambezi near the Victoria Falls for your rafting adventure, it will beat out any you have experienced before! Prepare for a truly wild ride through some of the world's toughest rapids. It's a huge amount of fun if you don't mind getting wet.
Canoeing or Kayaking at Victoria Falls — The upper Zambezi River provides for a picturesque and adventurous canoe trip as the river meanders it's way to the main Victoria Falls. Don't worry, you won't end up going over the edge but you'll enjoy some fun white water along the way.
Snorkeling or Diving in the Indian Ocean — The Seychelles, Zanzibar, Mozambique, whatever Indian ocean destination you desire, the underwater scenes are absolutely breathtaking and the coral reefs are pristine. In Mozambique you can dive alongside whale sharks, in the Zanzibar Archipelago you can enjoy the idyllic Mnemba island to yourself with snorkeling offshore. P.S. If you don't like to deal with the salt, Lake Malawi offers the finest freshwater snorkeling/diving in the world.
On Land …
Quad biking in the Kalahari Plains / Namib Dunes — quad biking is a huge amount of fun and a great way to feel the wind in your face as you play in the magnificent dunes of the Kalahari and Namib deserts. Quads are easy to ride so first-timers can have just as much fun as the rally pros. We make sure to use companies that have have set routes through their dunes and desert plains, so the wildlife remains undisturbed.
Zip line adventures at Blyde River Canyon, The Victoria Falls, and along the Garden Route — South Africans refer to zip-lines as "foofie slides" and that's not the only reason to enjoy zipping along canyons, and from tree-top to tree-top. Zip-lining is fun and safe for all ages and it offers a unique perspective on the lovely habitat you whizz through. It's also a great way to appreciate the trees and flora of southern Africa, which is as stunning as its wildlife.
In the Air …

Microlight Flights Over the Victoria Falls — Our in house favorite way to view the amazing Victoria Falls is by microlight. Just you and a pilot with an open cockpit leaving nothing between you and the Falls, but spray. A mounted camera allows you to re-live the 30 minute experience for years to come.
Bungi Jumping off the Victoria Falls Bridge — If you're going to be brave enough to leap off a bridge head first, it may as well be in front of the largest waterfall on earth. Bungi jumping is not everyone's idea of a good time, but it's certainly a thrill that will stay with you long after your last bounce.
Do contact us if any of these activities peak your interest, we'll make it happen for you! itineraries that you would enjoy include: