Reviews are everywhere and it's not often that we buy anything
these days without reading at least a few and counting the star ratings. At African Portfolio we understand the importance of listening to client feedback and making our reviews public. Which is why in addition to our google reviews we have a page on our website dedicated to client reviews. We take all of our clients' input, both praise and critiques, into account to improve upon and continue providing an unmatched personalized travel experience for every client.
Trip Reviews
The time we take getting to know you and guiding you through
the process of planning your safari is apparent in the trip reviews.   Our goal is always to exceed your expectations and curate a trip of a lifetime.
"This trip far exceeded my expectations. Everything went flawlessly, and we were so well taken care of."
"Beyond expectations. Super well organized!!!"
"A once-in-a-lifetime bucket list trip that exceeded all our expectations. Vanessa …was a wealth of information…immediately understood my priorities. We connected."
"Anouk really listens and hits the nail on the head."
"From the moment Victoria Herbert called by phone, I was confident that this was the agency I wanted to work with. .. She carried the ship with confidence, patience, competence and thoroughness. THE TRIP ENDED UP BEING SUCCESSFUL BECAUSE OF HER VISION AND HER IMPECCABLE WAYS.. Everyone we met in Africa had heart and a caring spirit. We were profoundly touched."
Most Memorable Moment
Once you are on safari, we want you to sit back and immerse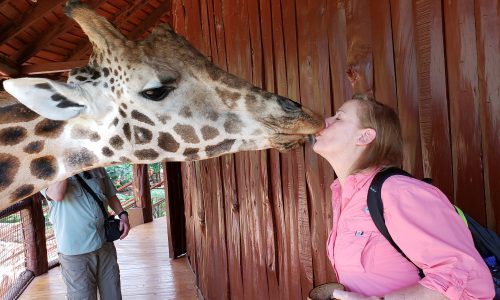 yourself in all that Africa has to offer.  You will learn that not all wildlife encounters happen when you are in a vehicle, especially with giraffes so it seems.
"One night at Kudu Kudu there was a giraffe right by our tent. When my husband went to use the outdoor shower, the giraffe had moved and was now eye-to-eye with my husband, approximately 10 feet away." 
"…got "kissed" by a giraffe at the Nairobi Giraffe Center"
"We were lucky enough to see the wildebeests cross the Mara
River for the first time this year. My dream was to see the Great Migration."
"So many…for me, spotting the leopard before the guide did!"
Advice
We also ask our clients what advice they have to offer prospective travelers. Even this year, despite the obvious challenges, the main piece of advice is not to postpone travel but rather go now!
 "If you're thinking about going anytime soon, don't wait. Go
now and make your travel dreams come true."
"Go now before it gets back to the same level of visitors!!"
"Don't wait, go now!"
Visit our client review page and have a look at this video to see more reviews along with photographs taken by our clients.  Whether you take their advice and want to book a last minute safari or start planning for next year, give us a call.