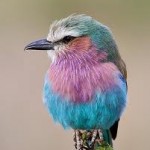 With more than 900 species of birds in southern Africa and over 1300 in East Africa, it's easy to understand why destinations like Botswana, Malawi, Uganda, and Kenya are immensely popular with twitchers. Even if you do not consider yourself a big fan of our feathered friends, you will be after your first safari. Because in Africa, even the most common birds are colorful. The iridescent lilac-breasted roller is as ubiquitous as the pigeon. Every tree or bush you pass en route to your next "big five" sighting, is filled with song and color. It's difficult to ignore birds while on safari and impossible not to fall in love.
Traveling with a twitcher? Have no fear, many of the best birding destinations in Africa, happen to be located in major wildlife parks and reserves, so you can experience a wonderful safari side by side. Not a fan of the bush? You can enjoy great food, wine and art galleries with your twitching enthusiast, given that there are some 225 birds within 100 km of Cape Town alone. And that includes the African penguin!
What's Different About a Birding Safari in Africa?
Birders enjoy their safari in the wet season, sometimes called the "green season".
Birding safaris are led by expert guides who are avid ornithologists.
Birding safaris will change camps frequently during a single safari in order to see as many different habitats as possible.
Birding safaris will allow for lots of time on foot and out of a safari vehicle.
Checklists, huge zoom lenses, spotting scopes, tripods and powerful binoculars, are essential packing items.
Birding safaris can get you off the beaten-track. Birders are among our clients who will specially request information about Angola, Uganda, Ethiopia and Malawi to see some of Africa's rarer birds, (like the Shoebill stork pictured here).
Note:
A twitcher is not the same as a bird watcher. The term twitcher is reserved for those who travel long distances to see a rare bird that would then be ticked, or checked off, on a list. A twitcher who fails to see a rare bird has dipped out. If other twitchers do see the bird, he may feel gripped off. Suppression is the act of concealing news of a rare bird from other twitchers.
If you would like more information about birding safaris, or any other "specialist" safari, contact us!