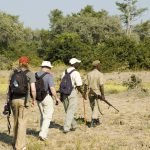 October marks the final month of the dry season and this is an awesome time to see huge herds of elephant, zebra, buffalo and others gather around the diminishing water holes and trickling rivers. Vegetation is increasingly sparse which makes it a cinch to spot wildlife. October is also the last month of the year to enjoy a walking safari in Zambia.  The migratory birds also begin to make their way south, from the northern hemisphere, so it's a fantastic time to be on safari. It's nice and warm throughout Africa in October, so no need for hot-water bottles and down jackets for the morning game drives. And it's the perfect time to take a dip into Devil's pool and enjoy the unbelievable experience of the Victoria Falls raging all around you.
In Kenya's Masai Mara the huge herds of migrating zebra and wildebeest begin to look towards the Serengeti border for greener pastures as they slowly filter back to Tanzania by the end of October. Book your safari in the right place this time of year and you get the migration all to yourself!   On the East African coast it's turtle season, Mnemba Island in particular is a gorgeous spot to enjoy this phenomena from.
October Festivals and Events…
Early October — Hermanus Whale Festival is an annual event celebrating the sighting of the Southern Right Whales with fine food, crafts and good family fun.
Late October – Erfoud Date Festival in Morocco celebrates the harvest of more than a million date palms annually. Local tribesmen come together for a 3 day festival dedicated to the sticky and delicious date. Berber tents play host to traditional dancing, food and music. There's also a dromedary race, which shouldn't be missed.
3rd Week October — Abu Simbel Sun Festival, believed to signify the birthday of the Ramses II and the day he ascended to the throne. When the sun enters the temple at dawn, the rays illuminate the statues at the back wall only, except for Ptah, the god of the underworld.
Late October — Kreol Festival, Seychelles is the biggest festival of the year and celebrates Kreol culture, food and fun all around Mahe island.
October/November – Diwali, one of the most important festivals in the Hindu Calendar. Hindu communities celebrate this festival of light throughout East and Southern Africa.
Contact us to fulfill your safari dreams!