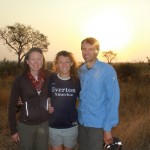 "We have a surprise for you. We aren't going to Idaho anymore, they explained, we are going to South Africa in ten days. An already epic summer had sparked to an unfathomable degree of adventure and experience. I was going to freaking Africa."
You can imagine how excited we at African Portfolio were when the Forster family asked us to plan their Africa surprise. We booked them on one of our favorite South African itineraries, a 4 day safari in Sabi-Sands, and 4 days of sightseeing, fine wining and dining in Cape Town. Here are some excerpts from the blog of high school student Liz, about her first trip to Africa…
No time was wasted when we arrived at the Sabi-Sabi Bush Lodge, and we set out on our first safari drive an hour after arriving. It was hard to set any expectations but I figured we would see animals from fifty or so feet away, which to me, seemed quite close. After about thirty minutes of driving, my day-dream was interrupted by our guide, Jabu, slamming on the brakes. My eyes shot up. What sat ten feet in front of our truck numbed any pain I had from the sudden whip lash: a 5,100 pound male white rhinoceros laying in the middle of our path. I had to rub my eyes a couple of times just to confirm the reality of the moment. His wrinkled, sandpaper skin, memory foam feet and gargantuan tusk all seemed so fake; but there he was, hiding from the sun in a small patch of shade with six birds perched on his spine so close that if he decided to charge us, I would have a mere few seconds to react.

Nearly every night back at the lodge eating our amazing, amazing, amazing meals (springbuck, ostrich, oxtail stew, kingclip, monkfish, and pork neck; fresh passion fruit, strawberries, melons, and pineapple; biscuits, cookies, puddings, and tarts; salads, breads, and so much more unlimited, in-house made food to die for), the four other groups would ask what we had seen that day. We would nonchalantly explain as their mouths dropped in awe. They had not seen half the animals we had. Two things came from this: a perspective on how unique and special our experience was and an even greater appreciation for the work of Jabu and Heavyness in tracking the animals. Somehow they piece together footprints and patterns that I would never pick up myself to find the most and least stealthy animals (leopards and lions are just a little harder to find than elephants).

During our four days in Cape Town, we climbed Table Mountain (3,558 feet and a 10 minute drive from downtown!) and Lions Head (sick rock climbing there I got to try one day), visited Cape Point and Cape of Good Hope, saw baboons, ostriches, and penguins, and just soaked in the luxury we got to look out at from our hotel room window everyday.
Read Liz's full account, or better yet experience your own South African adventure by contacting us to plan your perfect first safari.